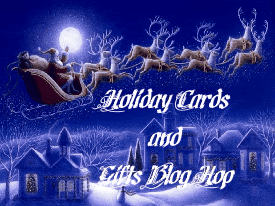 This blog hop starts at 8am central time, so be ready to start hopping.
I will be giving away some blog candy but in order to win the blog candy you need to leave a comment on my blog and become a follower.
Here are the list of blog participating in this Blog Hop.
I will announce the winner of the blog candy on 12/15, so stop back to see who the winner is.
Here is my holiday card for the blog hop. I have used bazzill textured card stock for the base of the card, I than added a decorative vintage inspired paper made by K and Co. I created the 3 layered snowflake and added a green rhinestone to coordinate with the paper and placed it in the upper left hand corner, which I added a distressed brown ink. The tag I put on the middle of the card is vintage photo with Santa in the middle. I also added a raised holly chipboard holly with rhinstones added to the chipboard. I added a little bling of glitter leaves with the holly. I also used glossy accents & added diamond dust to the edge of the scalloped photo with my spellbinders oval die cut. I also added christmas stickles to enhance the berries on the specialty paper, because the stickles was still wet some of the diamond dust added a little glitter to the berries also. I am so excited to be a participated in this blog. Remember to leave a comment and become a follower to win the blog candy. I hope you all have fun.
-Jamie at Glitter, Stamps, and Paper, Oh My
http://www.glitterstampsandpaperohmy.com
-Jessica at Overjoyed
Scrapper
http://overjoyedscrapper.blogspot.com
-Jill at The Scrapaholic
http://thescrapoholic.blogspot.com
-Stacey at Stacey's Creative Corner
http://staceyscreativecorner.blogspot.com
-Mandy at the
Polka Dot
Spot
http://stamping4u.blogspot.com
-Nikki at The Glamorous Side of Scrapping
http://www.theglamoroussideofscrapping.blogspot.com
-Crazy about Cricut at
http://www.crazyaboutcricut.blogspot.com/
-Nicolette at Beyond Scrapin
www.beyondscrapin.blogspot.com
-Liz at Skittles and Scrapbooks
http://skittles-and-scrapbooks.blogspot.com/
-KarelJ at One by One the Flamingos are Stealing my Sanity
http://karelj.blogspot.com
-Sandra at Sandy's Scrapbooks
http://sandysscrapbooks.blogspot.com/
-Kristin at Lil Sweetpea's Place
http://lilsweetpeasplace.blogspot.com/
-Meighen at Scrappin_3rdeeschik
http://scrappin3rdeeschik.blogspot.com/
-Ellen at Card Monkey
http://cardmonkey-business.blogspot.com/
-Jennifer at Crafty Card Gallery
www.craftycardgallery.blogspot.com
-Denise at Dee's Designs from my heart
http://deesdesignsfrommyheart.blogspot.com
-Jesi at Jesi's Things
http://jesisonaroll.blogspot.com/
-Dorly at Moderna Art & Designs
http://modernadesignsart.blogspot.com/
You are now at the end of the blog. I sure hope everyone had fun.