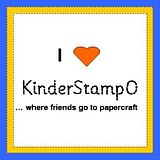 This blog starts on January 22 at midnight and ends January 23 at 11:59pm
I am so excited about this Birthday Blog Hop. I am offering some blog candy to all that becomes a follower and leaves a comment. Please be sure to leave your email or blog link so I can contact you if you are the winner. I will announce the winner on 1/24/11 using random.org.
Hi everyone and Welcome to KinderStampO's (Jess) 34 Birthday Candles and Counting Blog Hop. Today we have over 43 designers sharing at least 4 fun birthday inspired projects too. If you arrive from
(http://craftydeb-ddscrafts.blogspot.com/) then you are in the right place. If you are just here visiting and want to start from the top click here (http://
www.KinderStampO.com) to start from the beginning. After you leave this blog your next stop is
(http://taylordconcepts.blogspot.com
I was going to leave a big long description of the card I created, but I think everyone wants to get through the hop. So if anyone is interested in what I used for this card you can send me an email or comment at the end of the hop.
__________________________________________________
___
KinderStampO
www.KinderStampO.com
Ashley
http://scrappinpinkpiglet.blogspot.com/
Alexandra
http://www.youhadmeatcraft.com/
Angelica
www.handmadebyangelica.com
Anita
http://www.anitaandbugs.blogspot.com/
CanadianNickel Scrapn
http://canadiannickelscrapn.blogspot.com/
Cheryl
http://cheryl-gibson.blogspot.com/
Christine
www.scrapbookingtechnique.blogspot.com
Corri
www.buglvr.blogspot.com
Cristina
http://www.craftingwithcristina.com/
Ddscrafts
http://craftydeb-ddscrafts.blogspot.com/
Denise
http://deesdesignsfrommyheart.blogspot.com/
Erika Taylor
http://taylordconcepts.blogspot.com/
Haidee
http://created2bunique.blogspot.com/
Jennifer
www.craftycardgallery.blogspot.com
Jessica B.
http://thatzuneek.blogspot.com/
Jessica-Creative Stamper
http://thecreativestamperspot.blogspot.com/
Jess
http://myscrapdiary-jess.blogspot.com/
Jill Thee Scrapoholic
http://TheScrapoholic.blogspot.com/
Karla
http://karlasloveblog.blogspot.com/
Krista
http://www.KristasPaperCafe.com/
Leslie
http://www.leslierahye.blogspot.com/
Libby
http://www.psastampcamp.blogspot.com/
Linda
www.krazyquilling.com
Lisa J.
http://ljsscrapshack.blogspot.com/
Lisa T.
www.bitbythecricutbug.blogspot.com
Liset
www.hailemnat.blogspot.com
Momo
http://www.madebymomo.blogspot.com/
Mariam
http://mariamsatchell.blogspot.com/
Marilyn Nimmo
http://littlethingmemoryartist.blogspot.com/
Martha C.
http://dreamofcrafting.blogspot.com/
Martha G.
http://pattisscrapingtime.blogspot.com/
Nicolette Simpson
http://beyondscrapin.blogspot.com/
Pam Bray
http://pammejo-scrapbookflair.blogspot.com/
Sarah PinkCricut
http://www.pinkcricut.com/
Scrappin Thirdeeschik
http://scrappin3rdeeschik.blogspot.com/
Sigrid Martin
http://lovescrapreflect.blogspot.com/
Stayce DeWid
http://www.staycedewid.com/
Stephanie
http://www.alwayscrafting.com/
Theresa Harris
www.TheScrapbookingQueen.com
Tina Florapinkcreations
http://flowersinspirations.blogspot.com/
Tracy Scrappergirlie Loring
http://scrappergirlie.blogspot.com/
KinderStampO
http://www.kinderstampo.com/p/kinderstampos-34-birthday-balloons-and.html
Madison
http://www.funkycards.blogspot.com/
Thank you so much for celebrating Jess for her 34th birthday.